Must-See Places to Visit During Your Stay atGrand Lexis Port Dickson
Please be informed that not all places of attraction may be available during the recovery phases of the NRP (until further notice), this is to prioritise the health and safety of all visitors. Kindly contact the respective operators for more information.
The state of Negeri Sembilan is associated with the Minangkabau culture and is reflected by the upswept roofs that are reminiscent of a buffalo's horns. One might want to take a drive to Seremban, the state capital which is about 20 minutes from the resort. Here, one can visit the State Museum, Cultural Handicraft Complex, the State Mosque, Lake Gardens and the numerous shopping centres. Sri Menanti, the site of Malaysia's largest traditional timber palace is about an hour's drive by car from the resort. So book your stay with Grand Lexis Port Dickson, one of the best hotels in Port Dickson, and definitely a popular hotel with private pool villas in Malaysia, to explore all these fascinating attractions.
Grand Lexis® Port Dickson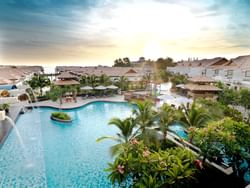 "Luxury of Your Own Private Pool"