Photo Credit: 123RF | @rawpixel
Best Food Joints to Eat Your Way Through
Port Dickson
Published December 20, 2022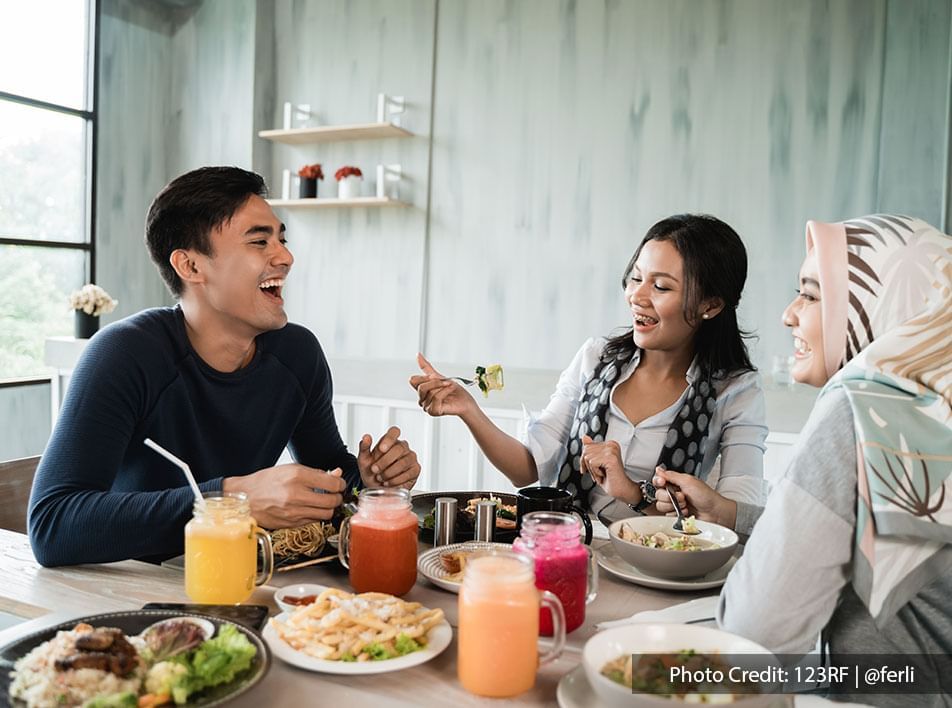 Better known for its insta-worthy beaches and popular beach resorts, Port Dickson is also the home to umpteen food joints that serve up some of the best food in Port Dickson, and some say Negeri Sembilan! If you happen to be travelling with a local foodie or gastronome who is worth their weight in salt then your palate is surely in for a treat, as what awaits you is a galore of mouth-watering food in Port Dickson that you might not even knew existed. You might be surprised at how many nice restaurants, cafés, coffee shops or even food stalls, where you can find the best breakfast in Port Dickson or dinner in Port Dickson, are actually just a stone's throw away from the beach resort that you've just checked in to.

However, if you're not lucky enough to be in the company of any local foodie or gastronome, then this article may just be the next best thing! Keep reading to discover tried-and-tasted food joints that offer some of the best food in Port Dickson, whether it's scrumptious breakfast in Port Dickson, dinner in Port Dickson, buffet dinner in Port Dickson, or even a romantic Port Dickson dinner by the beach!

1. Kafe Kampung Kaw Port Dickson

Just about a 20-minute drive away from Grand Lexis Port Dickson, Kafe Kampung Kaw is a favourite for locals and visitors alike as it draws a massive crowd looking for a fulfilling breakfast in Port Dickson. This hidden gem that offers delicious local food in Port Dickson is often bustling with customers on weekends and it's not without good reasons as the food here is not only yummy, but also very reasonably priced and served in a satisfactory portion.
Compliments also go to the chefs and kitchen staff of Kafe Kampung Kaw for never failing to serve up the most delectable and visually appetizing Port Dickson breakfast that scores very high points on our board! The food presentation is consistently on point and make great material for the #foodporn shots on your social media feed! Nothing says "My day is going better than yours!" quite as well as a drool-worthy shot of your breakfast in Port Dickson plastered across everyone's feed.

Opening Hours: Tuesdays to Thursdays, Saturdays & Sundays: 7:00am - 2:30pm; Fridays: 8:00am - 12:30pm (Closed on Mondays)
Address: Jalan Haji Sirat, Kampung Baru Sirusa, Port Dickson, Negeri Sembilan
2. Warung Salai

As the saying goes, when in Rome do as the Romans, so when you're food-hunting in Port Dickson, don't miss the chance to eat like the Negri folks! Warung Salai, which is just less than a 10-minute drive away from Grand Lexis Port Dickson is just the right food joint in Port Dickson for you to do so.
Offering a splendid taste of authentic Negeri Sembilan delicacies, the absolute must-try signature dish here is the 'masak lemak daging salai' with succulent and juicy well-seasoned beef braised to perfection in thick and creamy spicy gravy. Other equally delightful dishes that will set your taste buds on fire are their 'gulai ayam kampung salai', 'gulai daging salai', 'gulai perut salai', 'gulai keli salai' and other Port Dickson foods that you'll only be able to get an authentic taste of when you're here. Give this modest yet popular food stall a try if you're looking for a savoury lunch around Port Dickson.

Opening Hours: 11:00am – 5:30pm (Opens daily except on Thursdays)
Address: Taman Mewah, 71000 Port Dickson, Negeri Sembilan
3. Ayam Bakar Station Port Dickson

One of the most popular food joints that offer the best lunch in Port Dickson would be Ayam Bakar Station Port Dickson. Just less than an hour's drive from Grand Lexis Port Dickson, it is safe to say that they serve up the most rustically delicious grilled poultry and meat in Port Dickson. From incredibly tasty grilled chicken to well-marinated grilled lamb and beef, lunch-goers in Port Dickson would flock to this place whenever it's opened to savour a taste of their appetizing Port Dickson food menu.
Many of their loyal customers would certainly agree that the secret to their winning grilled creations is their careful, precise, and pristine grilling technique, rendering the meat well cooked with a richly savoury grilled crust atop the meat without drying it out, leaving it flavourful, tender and juicy on your plate. The irresistible aroma of chicken and meat being grilled over open flame also fills the air of the premise and draws in throngs of customers all year long, putting this place on the Port Dickson food map as one of the local restaurants that offer the best food in Port Dickson.

Opening Hours: 11:00am – 5:30pm (Opens daily except on Mondays and Tuesdays)
Address: KM5, Kg. Tanjung Pelanduk, Si Rusa, 71050 Port Dickson, Negeri Sembilan
4. Gim Men Teppanyaki

Another well-loved food joint that is perfect for dinner in Port Dickson would be Gim Men Teppanyaki. If it's your first time visiting this food joint in Port Dickson, then don't let its modest looking appearance fool you and be prepared to be won over by the amazing seafood galore that awaits you.
Opened from 6.00pm till 9.30pm with the most scrumptious dinner menu in Port Dickson, this rustic-looking restaurant is a family-favourite as it offers some of the best seafood dishes in PD, including their three-flavour fish and stuffed crabs. Their stuffed crabs tend to sell out on busier days so make sure to come early! Do note that Gim Men Teppanyaki serves non-halal food.

Opening Hours: 6:00pm - 9.30pm (Opens every Friday to Sunday. Closed every Monday to Thursday)
Address: No 103, Kampung Arab, 71000 Port Dickson
5. Roselle Coffee House

If you prefer to have your breakfast or lunch in Port Dickson within a more comfortable and air-conditioned environment, or even to enjoy alfresco breakfast or dinner by the beach when you're visiting Port Dickson, then you should definitely check out Roselle Coffee House at Grand Lexis Port Dickson. This all-day dining restaurant offers an extensive menu of local and international cuisines prepared by seasoned 5-star hotel chefs, so you can rest assure that the food quality and hygiene is always top notch.
Roselle Coffee House in Grand Lexis Port Dickson is famed for their breakfast buffet that is not only reasonably priced, but also never fail to impress in terms of their food variety and freshness! From time to time, there will also be exciting Port Dickson food promotions that are sure to give more bang for your buck, so make sure to check out their latest offers! The best part is that Roselle Coffee House is open to everyone, including non-resort guests!

Opening Hours: 7.00am – 11.00pm (Daily)
Address: Grand Lexis Port Dickson, Batu 2, Jalan Seremban, 71000 Port Dickson, Negeri Sembilan

If reading this has set your stomach growling, then it's time to start planning your next getaway to taste all the best food that Port Dickson has to offer. Save more on lodging by booking your stay at Grand Lexis Port Dickson directly from the official website so that you can splurge more on good food!